| | |
| --- | --- |
| The San Mateo Museum | |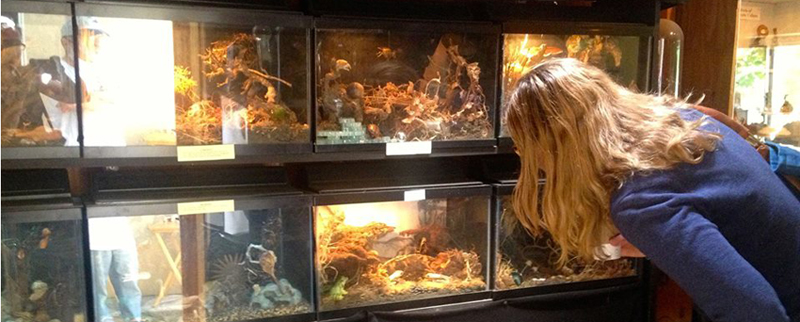 Obscura Society visit, 2013/photo: Annetta Black
The original Zymoglyphic Museum was an 8' x 12' shed in the driveway of the curator's home in a postwar suburban residential neighborhood in San Mateo. It was open to the public during special events. See here for an assortment of excellent photographs of the exhibits taken by event attendees
Silicon Valley Open Studios - 2000-2014
SVOS is an annual self-guided tour of artists' studios in San Mateo and Santa Clara counties. This event was the main opportunity for the public to see the museum, welcoming over 400 visitors since the beginning of the millenium. It was usually done in conjunction with artist-in-residence Judith Hoffman
Some photographs of the 2007 Open Studios
a dusty, strange world of Frankenstein'd creatures and ephemeral art...a beautiful mish-mash of railroad figurines, dried bugs, fake eyeballs and dryer lint...for someone who has a museum of fake animals in his toolshed, [the curator] is astonishingly sane and fun to talk to. -- Amy Brown, 2014
where alchemists, goddesses, and steampunk priestesses collide... -- Kirsten Weiss, author of The Perfectly Proper Paranormal Museum, 2014
Obscura Day - 2010-2012
Obscura Day is "an international celebration of unusual places" sponsored by Atlas Obscura. This event put the museum on the map as a destination for goths and hip urbanites who might not otherwise have ventured into 'burbs.
A few photographs from 2010
Atlas Obscura article about the 2011 event
A visitor account from 2011
It's this middle-aged weird dad guy in the suburbs...but it's still very cool -- Obscura Day 2012 (via Facebook)
Elsewhere Philatelic Society - 2011
The museum served as a "stamp window" for this cryptic organization during the 2011 Open Studios. One participant's account is here and photos here.
Sketchcrawl Silicon Valley - March 17, 2012
The museum hosted a group of sketchers. Two of the sketches by Pierre Uszynski were incorpoated into stamp designs by the Zymoglyphic Postal Service. Works in progress can be seen here.
Laura Mappin was with the group and created an in-depth photoessay about the museum
San Francisco Obscura Society - 2013
"The Obscura Society is the real world exploration arm of Atlas Obscura, seeking out secret histories, unusual access, and opportunities to explore strange and overlooked places hidden all around us"
The curator contributed a presentation about the museum as part of a panel on "Curiosity Cabinets", June 25, 2013.
The panel was followed by a society outing to the museum on July 7, 2013.