| | |
| --- | --- |
| Under the Hawthorne Bridge | |
From October of 2015 through August of 2016, the Zymoglyphic Museum was located in Portland's Central Eastside Industrial District, at 211 SE Madison St, #20.
At first, the museum was allotted a small section of the studio that it shared with Carye Bye and her various enterprises, including Red Bat Press, the Hidden Portland Library, and the Bathtub Art Museum. When Carye decamped to San Antonio in March, the Zymoglyphic Museum expanded to half of the space, reserving the other half for special exhibits.
---
First Fridays with The Bathtub Art Museum
The Bathtub Art Museum and the Zymoglyphic Museum held a number of joint First Friday openings, each with its own theme.
Oddly Curious - Oct 2, 2015
Featured a selection of some of of the more unusual holdings of each museum
Collections - Nov 3, 2015
Collections in the Zymoglyphic Museum and themes in the postcards
Rust and Lust - Dec 4, 2015
Artifacts from the Zymoglyphic Rust Age paired with some of the more risque postcards
Bathlandia mail art show - Feb. 5, 2016
The Bathtub Art Museum presented its final show of bathtub-related postcards and other objects before leaving Portland. Fellow artists were encouraged to submit bathub/Portland-related postcards, which were added to the museum's collection. The Zymoglyphic Postal Service showcased its unique postage stamp collection and stamps from the Zymoglyphic region
---
On My Walks: Photographs by Jessica Beer - April, 2016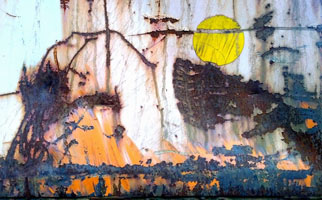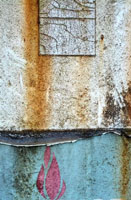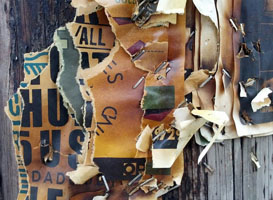 photos: Jessica Beer
The museum's first exhibition featured photographs taken by Jessica Beer on her walks in Portland and elsewhere. They capture a found art aesthetic in the fine details of urban decay.
Receptions were held each Friday evening in April featuring musical accompaniment.
To see more photographs, visit On My Walks on Facebook and a slide show of all available prints
---
The Insect Show! - May, 2016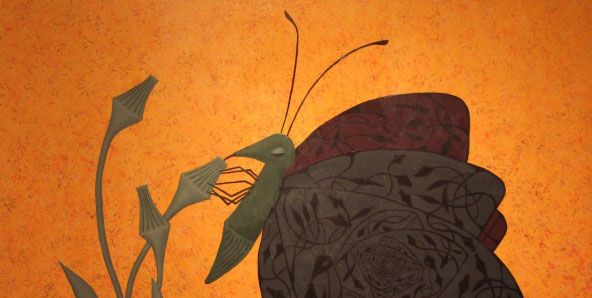 Insect-patterned Insect (detail) - Edith Casterline
A group show featuring large insect-themed paintings by Edith Casterline and other artists inspired by insects
- Drawings by Amanda Quiroz
- Invented insects by Zebith Thalden
- Don Golden's collection of framed wasp nests
- Artist's book "To Bee or Not to Bee: The Life and Death of the Honey Bee" by Twokandoux
- An extremely rare Albatross Moth from the Marcus Kelli Collection
- and the utterly unique Great Woolly Ant from the Faux Museum!
Show catalog
(PDF)
---
Pulverem Reverteris: Amanda Quiroz - June/July, 2016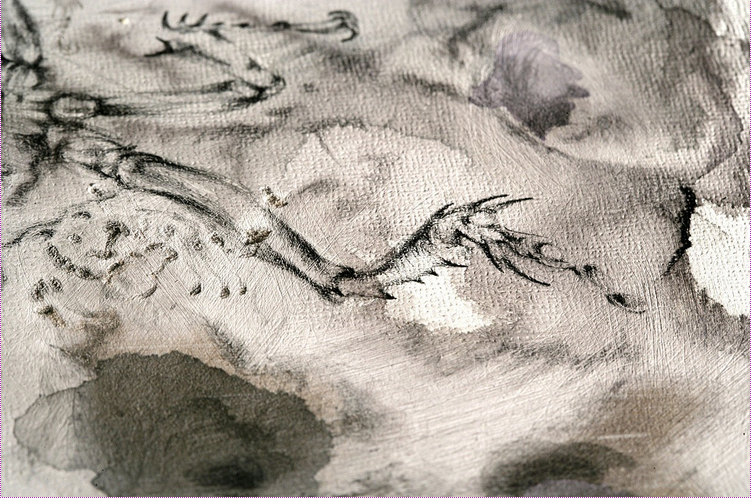 Sweep Me Up (detail)
The show's title derives from the famous "dust to dust" reminder from Genesis of our ephemeral existence and the inevitable decay that we all face. Continuing the museum's mission of finding wonder in that decay, we presented a survey exhibition of the work of Insect Show artist Amanda Quiroz. Amanda's work combines art, science, and spirituality, inspired by dust, insect exoskeletons, and reliquaries - "harmonious parallels between the infinitesimal and the grandiose."
Further information on Amanda's work:
Exhibition proposal (PDF)
Artist statement (PDF)