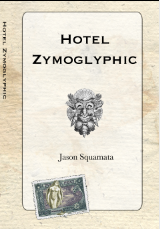 In the fall of 2018, the Zymoglyphic Museum sent its resident scribe, Jason Squamata, a.k.a. the Orakuloid, on a two month solo expedition to the fabled Zymoglyphic region. His mission was to penetrate its enigmatic fogs and bring back hitherto unknown insights about that mystery-enshrouded land that have up to now evaded the museum's researchers. He became so entangled in its multidimensional miasma that he has yet to find his way back. We believe he may have gone native. Fortunately, we have been able to acquire his journal entries via special envoy.

-- from the Foreword
Purchase online at
Discounted copies available in person at the museum shop!
Illustrated with views of the Zymoglyphic region!
The book as cabinet of curiosa...[T]he driving emotional force is surrealist fear and desire, erotic pursuit as grail quest in an omniversal macromuseum where the zymoglyphic concept cluster and its exhibits are fetishized and poetically photographed from every angle.
Readings by the author